AFOS®: Anchor Design Software with Both Elastic & Rigid Base Plate
Both the structural engineering and building industries are constantly challenged to meet demands for design and safety in the USA. That's why we created the AFOS® anchor design software.
AFOS® is a powerful and simple to use anchor design software developed in accordance with the American Concrete Institute requirements.
With AFOS®, you'll accurately design, analyze and report following strict ACI 318-19 compliance and ICC certification using a range of expansion anchors, screw anchors, wedge anchors and adhesive anchors. Using our simple interface – input data and results are displayed on the same screen.
At Allfasteners, we understand the needs and requirements of structural engineers – the complex design required, delivering accurate results and much more. That's why our AFOS® anchor design software is FREE!
We want you to be able to design the anchors you need, with accurate results, at no hassle to you.
Designed for the Industry
The AFOS® software was developed to fill a real demand in the industry. Don't believe us? Take a look at how this was designed.
Design with Elastic Base Plate, using a practical base plate thickness generating realistic results.

3D Finite Element Analysis (FEA)

Prying Loading is considered

If designing with a rigid base plate assumption, the AFOS® anchor design software can calculate the base plate thickness for this assumption to be valid.

Complex custom base plate shapes and anchor arrangements

Various structural profiles, including stiffener plates

Displacement and rotation of the profile is calculated

Seismic design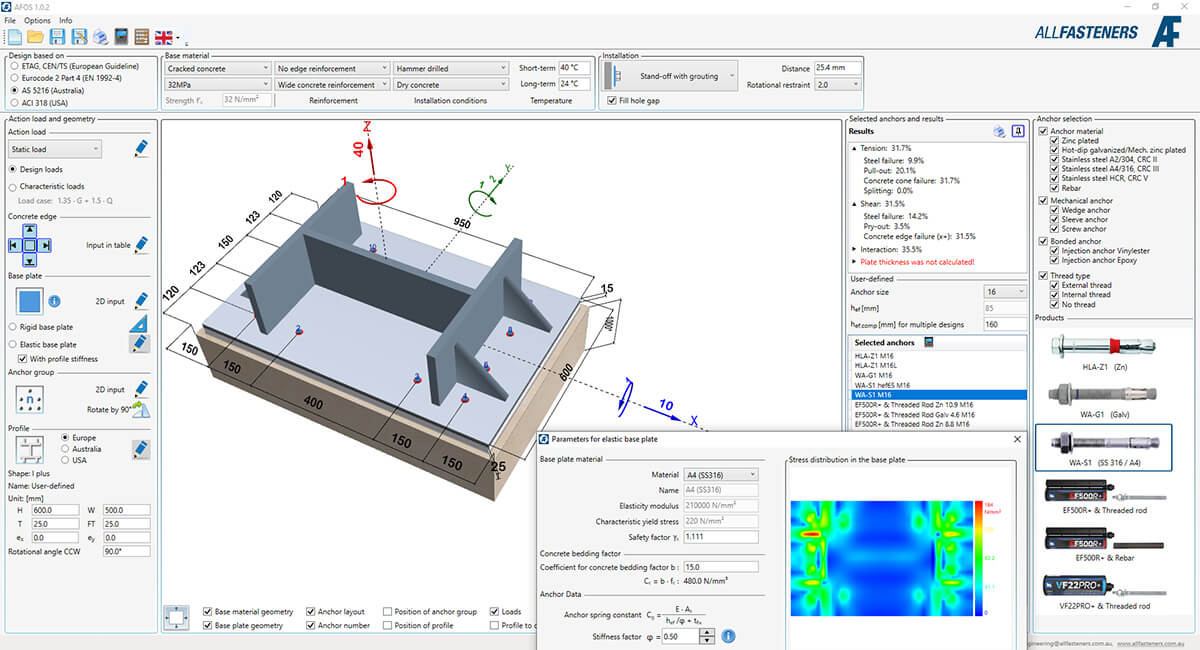 Fast & Accurate Results
The accuracy of our anchor tension force calculation using elastic base plate methodology with FEA has been verified with lab testing and is published in peer reviewed engineering publications.

The base version of the software has been tested and certified by the Institute of Construction Materials at the University of Stuttgart, Germany.

3D FEA gives more accurate and realistic results than 2D FEA

Independently developed anchor design software without manufacturer/supplier bias
Simplicity at Its Best
Design is made simple with intuitive interface

Calculation results are updated instantly

Fast and simple

All inputs and results are visible on the same screen – no multiple tabs needed

Works with multiple fasteners grades and finishes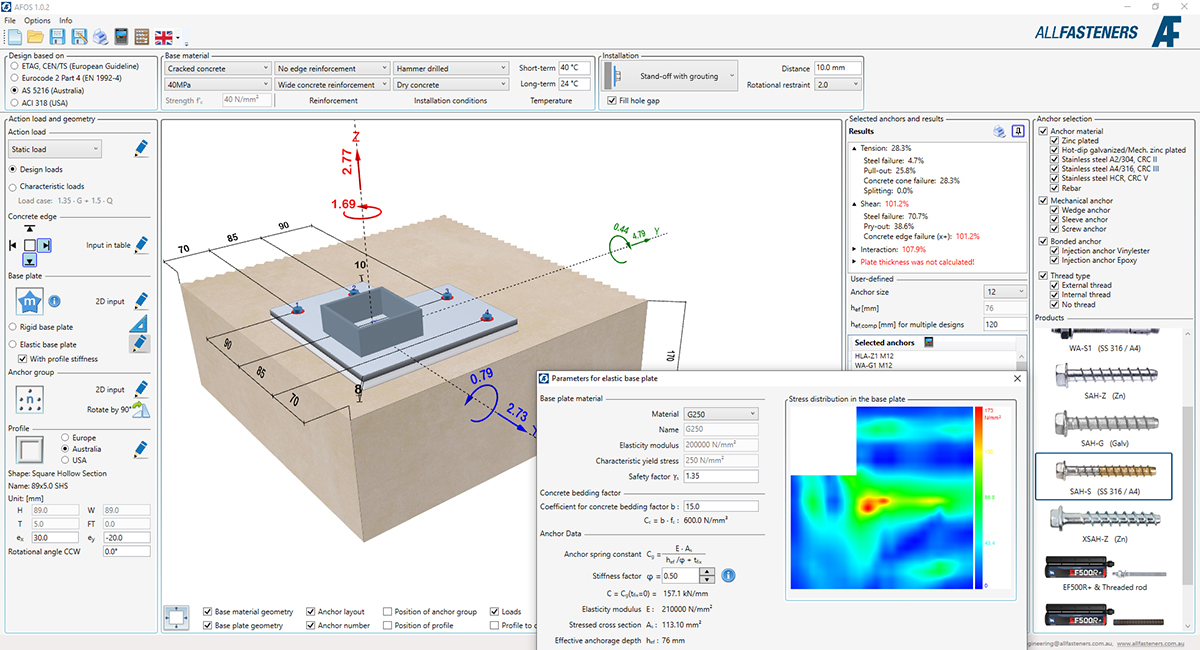 Unique Reports
Generate either summary or detailed reports

Print a single report comparing all anchors

Print a 3D image of the connection from the angle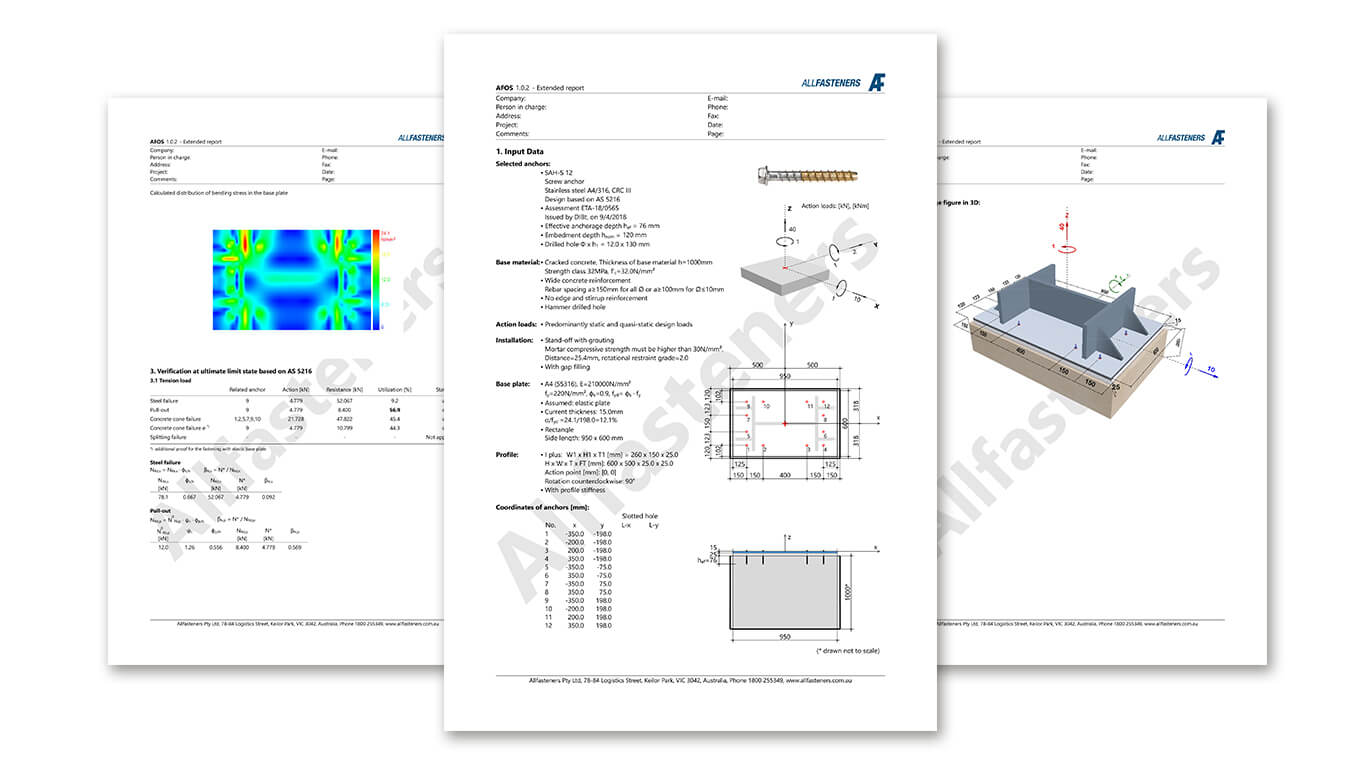 The free and ready to download AFOS® will help you select the correct anchor for your projects specifications.
Want to Know More About AFOS® Anchor Software?
If you want to know more about the AFOS® anchor software, or any of our other products and services, contact one of our representatives for the industries best advice.